Tactical Assassin 3 Hints and Tips
Need some help with Tactical Assassin 3? Check out these cheats, hints, tips and walkthroughs. New info is added regularly.
Play Tactical Assassin 3 now! Find more Crazy Monkey Game Hints and Tips.
Check out other games at Crazy Monkey Games
Tactical Assassin 3 Game Guide
Objective

Like other sniping games, in Tactical Assassin 3 you must read your mission brief carefully, and then choose the perfect time and place to make your shot! With each mission you accomplish, you gain access to better weapons and equipment. One shot, one kill - do you have what it takes?
You may wish to play the other Tactical Assassin games: Tactical Assassin, Tactical Assassin 2 and Tactical Assassin Substratum.
Controls
Mouse - Aim and fire
R - Reload
F - Use pills
Space - Zoom/Continue
Q - Change quality
Home - Go to menu
Gamplay
When you start the game, you will be able to choose whether to play in realism or arcade mode. Realism mode is more difficult - you will need to pay close attention to distance, wind, etc. Because completing the missions is more difficult in this mode, you can get a higher score! In Arcade mode you can use whatever equipment you want, there's no money earned by completing missions.
Each mission will begin with a mission briefing, which will tell you what you need to do to complete the mission - as well as other important information. Click "Execute" to start the mission. During the mission, use your mouse to move your viewpoint around the screen, and find your target. If you have a scope with zoom capability, you can press the spacebar to zoom in - hit the space bar multiple times to cycle through different zoom levels. When you're ready, click the mouse button to fire!
The Store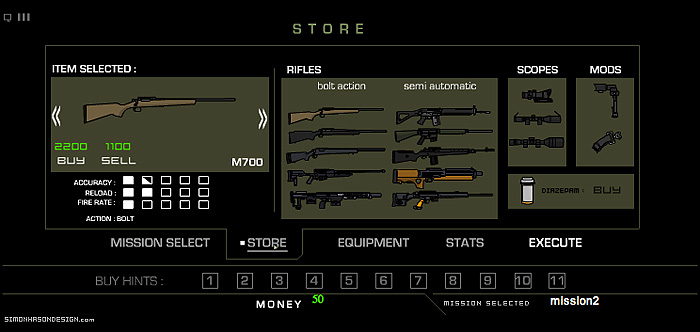 In realism mode, each time you complete a mission you will be awarded money, which can be spent on equipment such as better rifles, scopes, etc. You can also gain money by completing certain achievments, such as gaining a certain accuracy, etc.
You can also spend money to buy hints to help you complete missions.
Tips
Read your mission briefing carefully - often shooting the wrong target will immediately fail the mission!
Pay attention to wind and distance.
Be careful how you spend your money, you can accidentally sell your rifle and not have enough money to buy a replacement!
You can only zoom if your rifle has a scope with zoom capability attached.
Use Diazepram to calm your movements for more tricky shots.