Thing Thing Series
Thing Thing!
Thing-Thing is a series of games created by Weasel of Diseased Productions and sponsored by Crazy Monkey Games. The series has become wildly popular and each successive release has taken the Internet by storm. Players love the customizable characters, the wide variety of weapons, and the action-packed ultra-violent gameplay.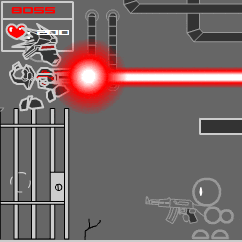 Released August 28, 2005
This is the game that started it all! The original Thing-Thing game was a relatively short introduction into the Thing-Thing series. It was created as a demonstration of the type of engine that would power the rest of the Thing-Thing games.
Although this game is rather short, it's still great fun, and an important part of Thing-Thing history. It introduced many of the important features that make all of the Thing-Thing games so much fun: customizable character costumes, multiple weapons, fast-paced action, and interactive environments (try shooting out the lights - it's great fun until you realize that you're fighting in the dark!)
Released September 22, 2005
The second installment of the Thing-Thing Series brought improved graphics and gameplay, many new weapons, and multiple levels to battle through. Thing-Thing 2 also includes a survival mode, and the ability to save your game and continue later.
There are also secret weapons in the game. You can earn them by getting an ultra high kill count in certain levels or in the survival mode. Can you collect every weapon in the game?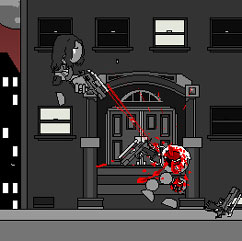 Released February 12, 2006
No levels or storyline here! Thing-Thing Arena is a frantic and fast-paced game of survival. The objective: To survive for as long as you can while destroying never ending hordes of enemies.
Thing-Thing Arena features a high score system that allows you to compete against other players from all over the world in four different survival modes! Do you have what it takes to earn a spot on the high scores list?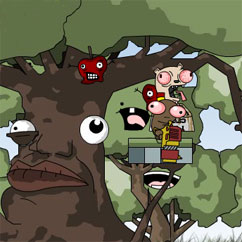 Released April 8, 2006
While not officially part of the Thing-Thing series, The Chronicles of Stinky Bean features Stinky Bean, who was first seen in the "Stinky Bean Survival Mode" in Thing-Thing Arena. In this game you'll enter the wonderfully demented world of Stinky Bean as he does Scat Monkey's bidding.
There are several cameo appearances in this game by various members of the Diseased Productions team! There's also a nice little surprise at the end for all you Thing-Thing fans.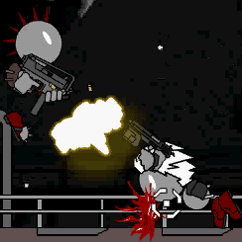 Released May 6, 2006
Thing-Thing 3 boasts even more fast-paced action than the previous games. This installment also reveals much more of the story behind the games with story-line dialog between each level.
The levels themselves now scroll vertically as well as horizontally, which ads an entirely new dimension to the gameplay and results in massive levels to explore.
Thing-Thing 3 also features three enhanced survival modes, each with Internet-wide highscore competition. Tip: You'll last longer in Survival Mode if you earn some of the more powerful weapons in Story Mode first.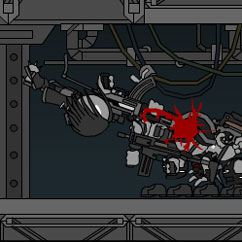 Released September 29, 2006
Think you've mastered Thing-Thing Arena? Think again!
Thing-Thing Arena 2 offers many improvements over the already great original Thing-Thing Arena. This sequel features scrolling levels, more weapons, more (and tougher) enemy types, more game modes, and a practice mode that lets you test out all of the weapons in the game on a helpless dummy!
There's a lot to see and do in this game. If you want to get a head start on your competition check out the TTA2 Game Guide for tips and more info about the game.
Thing-Thing Arena 2 also features worldwide scoreboards for each game mode, so get in there and set some records!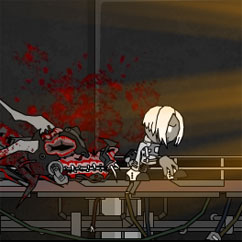 Released March 31, 2008
The next installment in the Thing-Thing series is finally here, and we think players will agree that it's been worth the wait!
Thing-Thing 4 has the same familiar feel, but includes many improvements over the previous games. For starters, there's a melee weapon (a lead pipe) that you can use to beat your enemies senseless when you're out of ammo. There's also a new weapon system that allows you to keep two different weapons equipped and switch between them. You can also throw empty guns at enemies to knock them back a little while you switch to a loaded weapon. Other new features include awesome boss fights, secret rooms and unlockables, and a highscore system that lets you view the characters who earned the top scores!
The storytelling in Thing-Thing 4 is light years ahead of the previous installments. The animated cutscenes and dialog will reveal answers to many of the questions everyone has about the series.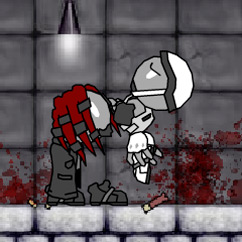 Released March 5, 2009
Now the objective isn't just to kill your enemies, it's to kill them with style! Thing-Thing Arena 3 includes new weapons, larger arenas, new outfits (including... get ready for it... GIRL Thing-Things!), achievements, and executions. There's also a screenshot mode that makes it easier to capture your greatest killing spree moments!
The achievements system is one of our favorite new features. Unlock achievements by killing enemies with style! For example, unlock the "pincushion" achievement by killing an enemy with nothing but arrows to the head. When you unlock an achievement the name of the achievement will appear on the screen, and also on your achievements list that you can access from the pause menu. You'll probably discover a lot of achievements accidentally while shooting everything in sight. For some of the more difficult ones you may need to consult the Achievements List.
The TTA3 Game Guide can give you more helpful hints. Now get out there and start killing... with STYLE!