Bitshift Hints and Tips
Need some help with Bitshift? Check out these cheats, hints, tips and walkthroughs. New info is added regularly.
Play Bitshift now! Find more Crazy Monkey Game Hints and Tips.
Check out other games at Crazy Monkey Games
Bitshift Game Guide
Objective

Bitshift is another great arcade game from Diseased Productions, the makers of Blueshift, Redshift, and many other great games. Fight your way through ever larger waves of enemies in this retro-style space game!
Controls
Arrow Keys - Control the movement of your ship.
A - Shoot.
S - Activate shield.
D - Fire EMP (if fully charged).
P - Pause the game.
Gameplay
Use the arrow keys to control your ship's movement on the screen. Enemies will appear at the right side of the screen. You can either dodge their shots, or activate your shield and absorb their shots. As you absorb enemy shots, your EMP charge level will increase. When your EMP is full, hit 'D' to fire the EMP and destroy all the enemies on the screen!
The Screen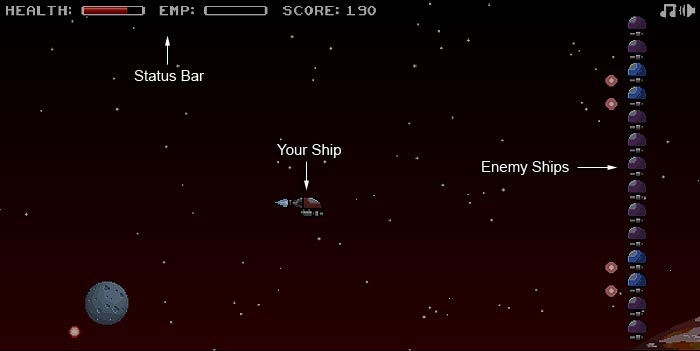 Tips
Hold down the fire key ('A') to fire automatically.
Try to quickly blow gaps in the enemy line, then when they all fire there will be corresponding gaps in their shots where you can take cover.
Your shield is short-lived, but the only way to charge your EMP weapon - use it carefully!
Watch out for power-ups drifting through space - they are key to advancing in later levels!